NOAA, the U.S. administration that tracks storms, predicts that 2013 will be an active hurricane season in the Atlantic, and after that, winter is coming – are you and your car ready?  It's time to start protecting your vehicle from the elements. These simple tips can get you ready: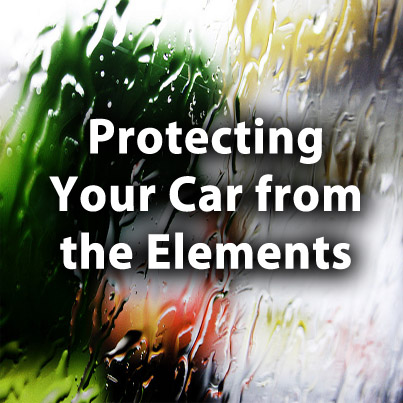 1. Maintain or repair your garage.
Make sure your garage is ventilated and protected from unwanted leaks. Extreme heat, especially when combined with humidity, can harm your car, so can an undiscovered leak in your garage or a space without proper ventilation.  Make sure your garage is breathable, and regularly check for leaks in your walls or cracks in your garage doors and windows.
2. Use a cover to protect your car.
For nasty weather when you can't garage your car, invest in an outdoor waterproof car cover. Car covers can be purchased for well under $100, making this an affordable protection against not only the weather, but bird and animal droppings as well. If your garage is not up to snuff or you have delicate systems in your car, consider buying an indoor cover to protect it from dust and other indoor elements.
3. Regularly service and maintain your vehicle.
Just like you, your car or truck needs regular check ups to make sure everything is running properly. Particularly have your battery, brakes and air filter checked, since those can get gummed up with extra debris and rock salt in inclement weather.  Find a mechanic you trust and stick with him so you can feel secure that you are not being overcharged for simple maintenance. If you don't already, keep the manufacturer recommended self-maintenance, like oil checks, up to date.
4. Maintain proper tire care.
Make sure to keep your tires filled to help them last longer – and if they are perpetually leaking, it's time to replace them. You should also regularly rotate your tires to prevent uneven wear and treading. Check which rotation positions are best for your vehicle and do it twice a year – more if you are a frequent long-distance driver.  Tire stability is crucial for optimal vehicle performance.
5. Regularly wash your car.
Dirt, salt, sludge and pollution build up on your car in the winter, and as the season progresses, we often think, "Why bother washing it?" But a clean exterior can prevent rust, especially if you are frequently driving through road salt, and cleaning out the grit and grime will keep your car in better shape and help it last longer.
6. Protect your paint job without wax or polish.
Wax and polish can actually damage your car, and today's technology has plenty of options for both old and new cars.  A non-abrasive acrylic paint conditioner, on the other hand, won't damage a new car or paint job, is resistant to rust and never dulls. Another option to protect your finish is Paint Protection Film, which is a thin layer film that adheres seamlessly over your car's paint job to protect it from nicks, scratches and deterioration caused by acids, antifreeze, dirt, and other road debris.
Storms, dirt, debris, and winter weather can do a lot of damage on your car in small ways that are not always visible. These simple steps will go a long way to protecting your car from Mother Nature in all her fury, and keep you running smoothly for years to come.
Photo Credit: http://www.flickr.com/photos/tchandok/4811498597/