In previous posts for this series, we've discussed finding and purchasing a Corvette and documenting the "before" stage. Now that you've got the bug, you finally bit the bullet and purchased a Corvette; you've brought the vehicle home or to your garage and are ready to start working on it.  So let's jump right in and get busy!  Let's assume you've already done your due diligence, creating a solid photo album of all your existing features on the car, exterior, interior, undercarriage, engine compartment, door panels and so on.
To be sure, the level of work you are faced with in your restoration project will vary widely based on the condition of the Corvette, available parts and supplies and your own ability to manage and perform the restoration work yourself.  In this continuing series of Restoration Steps, we are going to focus on a variety of issues and areas.  Some of these may be right in your wheelhouse, others may be areas you have zero intention of doing yourself or without professional assistance, but we're going to work through these steps as if you stripped your vehicle down to the bare frame and started working back up from there.  Albeit a truly rare step, but one that more than a fair share of restorers are interested in learning about.
With that in mind, this blog post will focus on restoration work around your Corvette frame.  Depending on the upkeep provided by the previous owner, the location where the vehicle was kept and the age of the Corvette, you may end up dealing with frame rot and that means you will be doing some stripping and metal fabrication repair work.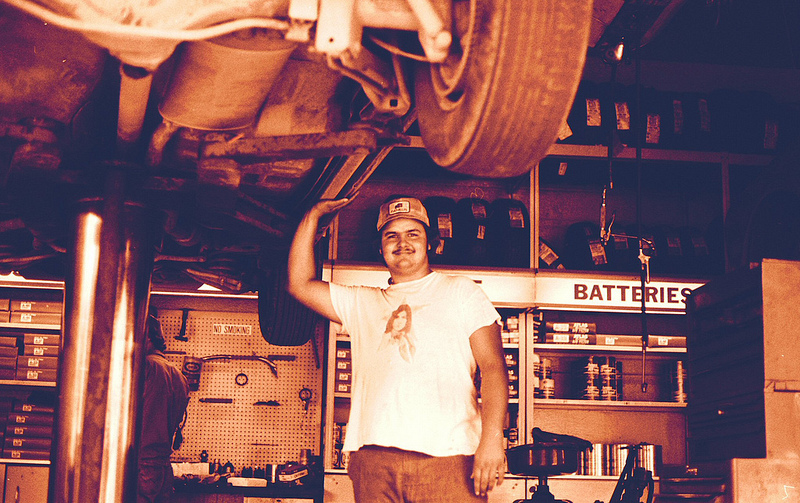 Starting Out
The right tools for the right job.  When working on a frame rot project, you will want to start with the right tools and supplies.  Of course, you will need mask, goggles and gloves.  Also, have a grinder, large clamps, wire brushes, a mig welder, and marker.
After putting your Corvette on jack stands, or a lift, you'll want to inspect the undercarriage and frame.  Right now, you're checking for rust on the frame itself, but also the bolts and nuts and the general condition of the frame.  Removing suspension components will give you much freer access to the frame structure both under and over the frame itself.  Most rust will likely appear more on the bottom of your frame and components than on the top, but you may not soon have a chance to review the state of the frame again, so take the time to go over it thoroughly.
You've found some rot on your frame or undercarriage components now, so what's next?  First, grind the area down to remove all rust and when doing so, make sure you grind well passed the rot area.  You will be replacing that rotted area with new metal, so you want to make sure you grind the rust off on a clean (e.g. non-rotted) section as well.  Once you've cleared the spot, use your marker to position spots where you want the new metal to go.  From that, take an etching or template on paper for the area that you are going to be fabricating a new piece of metal.  Take your paper template and place it on the sheet metal, tracing the outline of the template with your marker.
After making your cut of the metal, use your clamps to put the new piece in place and prepare to fire up the mig welder.  Please note: most welders recommend welding less than a 100% bead all the way around your new piece.  This allows your frame a little more flexibility, which it's going to want since you are putting a new piece of metal in place of the rotted section.
Lastly, now with the repair metal in place, you'll want to paint the undercoat to avoid the rust issue in the future.  After that, take pictures again, remember the need to document your repairs and process are invaluable.
We hope this article took some of the mystery out of stripping and metal fabrication.  On the surface, many project restoration folks want to avoid this type of work, but in truth, it's a lot easier than you think.  Next time, we'll focus on something more simple, mechanical work…Yea, right!?!   Happy Motoring!
Photo by starmanseries on Flickr, used under Creative Commons licensing