The 2014 Stingray has brought ooh's and aah's from auto enthusiasts for its style, options and speed. But can a future Corvette bring fuel economy – via a hybrid electric option?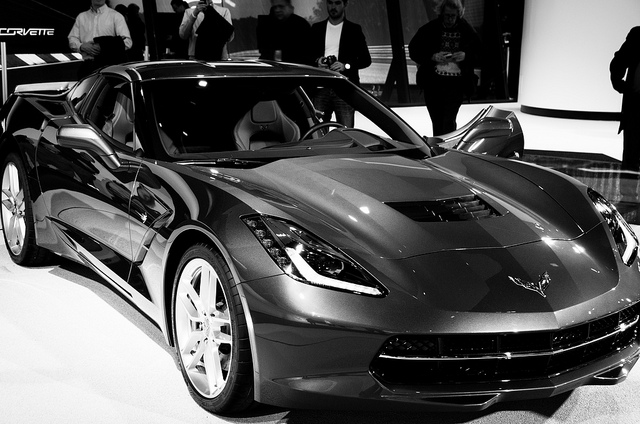 While fuel efficiency is a long cry from a fast electric car, sports cars, race cars and even trucks have been targeting better fuel efficiency for consumers over the last few years. With the American public demanding better fuel economy, is the time is right for a stylish car that can go fast and get good mileage – like the Corvette?
The LA Times reports that GM President Mark Reuss thinks "it's a very attractive idea." In fact, the groundwork has already been laid with the Corvette. The 2014 Stingray features an "Eco" option. Chevrolet has already touted this car as one of the most fuel efficient sports cars, advertising it with an estimated EPA of 29mpg highway (for the manual-equipped model). Flipping into "Eco" mode can give you up to 30mpg. That's a far cry from the Corvettes of old but it's still not a hybrid.
While we tend to think of electric cars as practical and slow, the technology has already been moving forward for a faster model.  The Tesla Model S, for example, is fully electric and has reached a top speed of 120mph.  Even closer to the mark is the McLaren P1, a hybrid, which debuted last year as a concept car and is now in production. It sports a 3.9 liter V8 engine combined with a KERS electric motor.  The Porsche Hybrid Spyder is racing away at a cool 112mph, breaking a world record for completing Nürburgring's Nordschleife circuit. BMW's i8 has jumped into the hybrid market too. All of those vehicles price out near or over $100,000 but can there be a model available in down-to-Earth pricing?
KERS technology could be the key. Short for Kinetic Energy Recovery System, KERS stores up the kinetic energy of the car during periods of braking, saving it as either mechanical or electrical energy, then uses it later for acceleration. According to How Stuff Works, a hybrid with this system employs its electric motor to brake the car rather than using disc or drum brakes. The vehicle can either move by the electric motor alone or work in tandem with the gas engine, depending on configuration.
First approved for use in Formula One racing in 2009, it was heavily tested in 2008 and a KERS car even won its first race that same year – a Ferrari.  Is a hybrid Corvette really that crazy of an idea?
Green Car Reports doesn't think so. They wrote about the possibility of 750hp hybrid Corvette back in 2009, and continue to believe in the viability of a hybrid Corvette.  They speculate on the idea of a Corvette featuring plug-in hybrid, reminding readers that GM has been already been focusing on Voltec plug-in electric car.
What do you think? If speed and style can be maintained, should GM move forward and work on a hybrid Corvette? With Mark Reuss at the helm, the idea is certainly has potential.