Back in the '60's, GMAC started a program leasing Corvettes to NASA astronauts for $1 a year. More than just a marketing ploy, astronauts became enamored with the feisty car for years to come and the program would solidify Corvettes as the car that is stylish, speedy and state-of-the-art.  The Apollo XII team each received a special Corvette, custom designed with a gold and black paint job and outfitted with a 390HP V8 engine. The only one of those cars still known to be in existence is Bean's, easily identifiable by the initials "LMP" (for Lunar Module Pilot) imprinted inside the Stingray logo.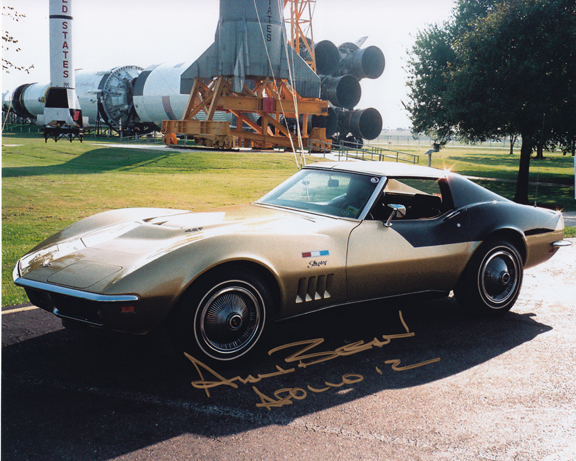 Image from http://corvettechevyexpo.com/home.html
Currently owned by Austin Reed of Texas, you can see this piece of Americana history at the Corvette Chevy Expo on September 28 -29, 2013, at the Dallas Market Center Hall in Texas. You'll not only get an eyeful of classic Corvettes like the AstroVette, you'll get a peek at the 2014 Stingray, "the most powerful standard model" Corvette created to date. Featuring 450HP and 450 lb.-ft. of torque, this sweet new Stingray can accelerate from 0-60 in less than 4 seconds.
The Expo doesn't just feature Corvettes; it also contains a full line of Classic Chevrolet show cars like Camaros, Chevy Trucks, the El Camino, Chevelles, Novas, Monte Carlos, and even Bel Airs – over 100 vehicles in total. Vendors and industry professionals will be there showing off the latest and greatest accessories, parts and performance systems available to specifically complement Chevrolet models, making this show a must-attend if you are restoring a classic Chevy. Also for sale will be memorabilia, car accessories and products, and Chevrolet apparel. The show even features a swap meet and, of course, car sales if you're ready to commit to that dream car!
Be sure to attend the Awards Show on Sunday, with over 40 classes of awards including Best of Show for Corvette, Camaro, Chevrolet and Chevy Truck and the President's Award for any cars that score between 98-100 points. Currently in it's 35th year, this year's Corvette Chevy Expo will also feature the brand new Tri-Power Award, organized by Bill Braun, Judging Chairman for the Chevy/Vettefest and State of Illinois N.C.R.S. Chapter Chairman. The award will go to one Corvette that is both N.C.R.S. Top Flight® and Bloomington Gold Certified®, and deemed to have the highest originality, best condition and greatest detail.
Tickets are only $20 for a full weekend pass or $15 for a one-day pass.  The Expo is open to the public on both weekend days at 9:00 A.M. and closes at 7 P.M. on Saturday and 6 P.M. on Sunday.  Sunday also features a Miss Corvette Chevy Expo Bikini Contest at 3 P.M., followed by the Awards Show at 6:00 P.M.
Not only that, but there's plenty for the kids to do, and children under 12 are free! On Saturday, kids can have a photo opp with Elmo, Dora the Explorer and Batman from 12 P.M. to 3 P.M. You can also register for a chance to win the Miniaturized Corvette Stingray for that special child in your life. If you're passionate about Corvettes and in the Dallas area at the end of this month, I recommend you stop by the Corvette Chevy Expo!