Welcome to Volunteer Vette, your online provider of quality Corvette parts and accessories. From our home base in Knoxville Tennessee, we have the selection and expertise needed to help you maintain or restore your treasured Corvette. We hope you'll enjoy browsing our line of Corvette parts for sale.
Happy Holiday's From Volunteer Vette
**Save On Your Next Order With Discount Code: holiday13**
Order on our website or by phone and receive Free Shipping on orders over $100. Plus you can also save 10% on orders over $199. Just input coupon code; holiday13 during checkout and save. You can use this code as many time as you wish until 1/31/14 when it expires. This is our way of saying thanks for another great year. *Exclusions from this offer include; orders shipped by truck, non-retail sales, express shipping, & is limited to the 48 Contiguous States. Exclusions on 10% discount is on items listed as (ND) Non-discount. 10% discount can not be used with other discount levels **Discount Expires: 1/31/14**

Restoration Parts for Chevrolet GM Corvettes
We sell new, reproduction Chevy Corvette parts from 1963 through 2004. To navigate your site, start by choosing the generation that your 'Vette belongs to. You'll find these across the top of our website, or down the left-hand side in the blue box labeled "Categories". Note that C3 Generation Corvettes are divided into three sections to help you more easily find what you're looking for.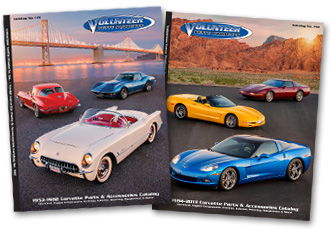 Vette Parts Catalog
If you're not a fan of shopping online, you can view our online catalog or request a print catalog and place your order by phone. For your convenience, you can call us toll-free from within the United States by dialing 1-888-658-3883. Our direct line is 865-521-9100, or you can order by fax at 865-522-0080.
Other Features of Our Site
We want to help you be as successful as possible when working on your Chevrolet Corvette. In addition to selling Corvette accessories and parts, we also provide technical diagrams for assistance. Please consider connecting with us on Facebook, Twitter, and also check out our new Corvette blog for fun posts as well as company information.
Thank you again for being a valued Volunteer Vette customer.