Volvette Policies
Free Shipping Policy
In order to offer the absolute lowest prices to our customers, Volunteer Vette offers free shipping for Internet orders over $199.00. Free shipping applies to regular ground shipments within the contiguous 48 United States. *Some large items such as exhaust systems will ship with a discounted flat rate shipping cost (Parts that ship flat rate will be noted in their description). Parts the ship by truck freight are excluded from Free Shipping. If you wish to expedite you parts order, there are several UPS methods to choose from at an additional cost. Free shipping is not available to dealers, phone orders, truck freight, expedited shipping methods and/or parts specifically marked flat rate. If your order meets the qualifications for Free Shipping, you will be able to select Free Shipping in the shipping options section during check-out. (If you have any questions about Free Shipping on our website, please call 865-521-9100)
If an item is returned that shipped with Free Shipping for any reason other than defective, the cost for us to ship the item to you will be deducted from your return credit.
Shipping Policy
We ship most of our products via UPS, using their standard rates. However, a few of our larger items exceed UPS's weight limits; therefore these items are shipped by a freight company. Please understand that the shipping amount calculated on our site is as accurate an estimate as we can provide. However, the actual shipping costs may differ slightly. If the difference is greater than 15%, we will call you for an approval before processing your order. Orders received after 2:30 pm Monday-Friday will ship the next business day. Orders placed after-hours and on Saturday and Sunday will ship the following business day.
The following map shows approximate transit times for UPS Ground delivery. Click on the image for a larger version. Times shown are guidelines and are not guaranteed.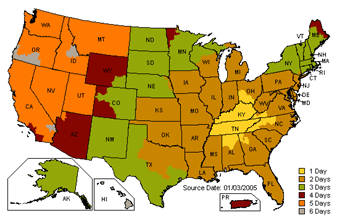 Security Policy
We have the best security available to protect your online orders.
Our server is located in a secure data center with access control and 128-bit encryption of your personal and credit card information to protect you. Your credit card information is not stored on our web server longer than the time required to transmit and retrieve the order by our customer service team.
Privacy Policy
We respect your privacy.
Have you ever provided your information on a web site and then received junk email or mail from third parties? We respect your privacy and will not send unsolicited mail, sell or provide your information to third parties or disseminate information about you other than as required by law.
Availability Policy
If your item is in stock, it will generally be shipped on the same day that you order. Orders placed after 1pm in most cases will be shipped on the next business day.
The amount of time for your order to reach its destination depends on the shipping method selected by you during the checkout process.
Thank you for shopping at Volunteer Vette. If you would like to contact us regarding our policies or a particular order, please call 865-521-9100.