1953 - 2013 Corvette Parts & Accessories
Need Help Finding The Right Part? 865-521-9100
New Products
Corvette Accessories
Restoration Parts for Corvettes
We sell new, reproduction Corvette parts from 1953 through 2013. To navigate your site, start by choosing the generation that your 'Vette belongs to. You'll find these across the top of our website, or down the left-hand side in the blue box labeled "Categories". Note that C3 Generation Corvettes are divided into three sections to help you more easily find what you're looking for.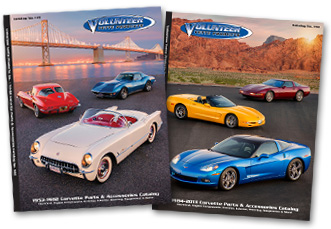 Vette Parts Catalog
If you're not a fan of shopping online, you can request one or both of our printed catalogs and place your order by phone. You can call us Mon-Fri at 865-521-9100, or you can order by fax at 865-522-0080.
Other Features of Our Site
We want to help you be as successful as possible when working on your Chevrolet Corvette. In addition to selling Corvette accessories and parts, we also provide technical diagrams for assistance. Please consider connecting with us on Twitter, and also check out our new Corvette blog for fun posts as well as company information.
Thank you again for being a valued Volunteer Vette customer.