Part 1 of a 3-part series.
With the approach of holiday season, the Black Fridays and Cyber Mondays and all the shopping battles in between that are being fought online, in stores and on TV, one question hits home with the Corvette buying audience.  You're in the market for a Corvette, so what should you buy?
In this article, we'll be taking a look at your options, from new or recently used to classics to help the Corvette buyer find the right Vette for themselves.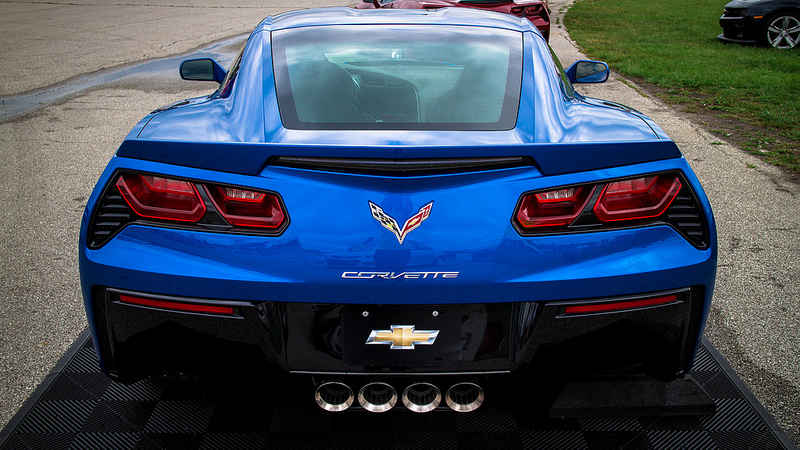 The argument for a New Corvette – Styling and Speed of the new C7
There are many options to choose from when buying a Corvette, they've been built for a few years now and have a bit of a following when it comes to enthuistists who are interested in this brand and model and have a modicum of loyalty to the vehicle.  Of course, that's putting it lightly, so any discussion of what Corvette would best meet your needs, or rather desires (because honestly, need doesn't enter into it when buying a Corvette outside of the need for speed).  But there are other considerations and we'll take a look at those here.
Styling – over the years, Covette designers have made some of the most distinctive advancements to modern automotive design and styling that American car owners have ever seen.  The new Corvette doesn't shrink from that goal.  New headlight and taillight groupings, a vented hood, side vents, and a 4-holed dual exhaust rear end gives the new Corvette an updated exterior look while retaining its sleek and powerful display.  The cockpit is as you would expect full of "toys" for the Corvette roadie.  Seat options are available for normal touring or competition sport, which has harness pass-throughs for real racers.
Speed – With a 6.2L V8 powerplant pushing 460 HP and 465 LB of torque, a 7-speed manual transmission and a 0-60 time of 3.8 seconds, speed is included in the price.  Throaty acceleration, power to the ground in all the right places and the stylish taillights that will be obvious to the guy you're racing are primary reasons for giving the 2014 a good, hard look.  If you're looking for an automatic transmission, you still have great shifting options with the 6-speed transmission that includes paddle shifters on the steering column.  Dual shifters, right one for up-shifts and left for down-shifts gives the feel of real Indy car racing in this sleek package.
Toys – with "new" comes "toys" and the new C7 is not want for anything in this area.  From the colorized heads-up display with configurable display themes for touring, sport or track displays, to the sport shifter on the manual transmission, this new C7 doesn't lack in all the little extras Corvette owners have come to expect from new generations.  A smaller steering wheel makes the car feel more responsive and with electric power-steering, this Corvette rides smooth and responds quickly to your commands.  Our favorite option, the slick new Stingray emblems that harken back to a previous time and style that we're glad to see return.
Already named Automobile Magazine's 2014 Automobile of the Year, the new C7 delivers on all its promises.  If there are any concerns, you can play devil's advocate here and say owning the absolute first release of a new generation of Corvette can be good or bad, if all the kinks haven't been worked out yet, but GM has spared no expense in making sure this new C7 look, feels, runs and is a step above the previous releases.  Having been in planning since 2007, originally expected in 2011, GM took the extra time to get this right and it shows in the new Corvette's look and feel.  All things being equal, if you can afford it, yea…get one!
Our next article will explore the "used" C6 generation – a slouch by no means, but a little easier on the checkbook.